Wonder-fish from Azov sea

http://news.rin.ru/eng/news///9871/5//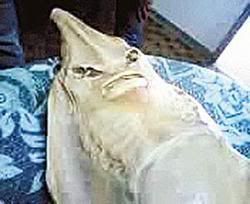 pic
Wonder-fish from Azov sea
Wonder-fish from Azov sea Two weeks ago there was a storm in the Azov sea. After the storm the fishermen from Semibalki village pulled out to the shore a strange creature, which looked like a shark. The creature got into their net.
The wonder-fish made strange sounds and revolved the eyes. The length was about 2 metres, the weight is up to 100 kg.
The fishermen were puzzled, "Is that an alien or what?!" They made a picture with a mobile phone camera and soon all the people around has the picture.
To the greatest regret of the scientists and ufologists, the fishermen were not alarmed by the strange look of the "fish" and ate it. They say, it was the tastiest fish ever.
The scientist who have seen the picture are bewildered - they have never seen anything like that.